About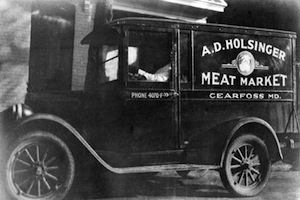 Although many things have changed at Holsinger's over the years, the traditions of the Holsinger Family have been passed down to its current sixth generation.
Having a complete line of fresh beef, pork, and poultry products, Holsinger's Meat Market also provides store-made Smokehouse Specialties including: Beef Jerky, Beef Snack Sticks, Smoked Bolognas, City Cured Hams, Hickory Smoked Bacon, Smoked Country Sausage, Polish Sausage, and Holsinger's Famous Hotdogs. Taste our Award-Winning Hotdog recipes including All Beef Hotdogs, Cheese Hotdogs, and Turkey Hotdogs.
Ham lovers must try our own City Cured Ham, our ready-to-eat Baked Country Ham, and there's nothing like and Old-Fashioned Sugar Cured Country Ham.
Holsinger's makes a wide variety of Fresh Sausages to satisfy every tastebud: Country Style, Maple, Apple, Sweet Italian, Hot Italian and Green Onion. For a low fat option try Holsinger's Turkey Sausage.
Available at Holsinger's is America's Original Red Meat 'Buffalo.' Lean and healthy, Buffalo meat is low in fat, calories, and cholesterol. We also stock fresh meat cuts and make a variety of smoked products that are out of this world.
Holsinger's Meat Market serves Fresh Meatlover's Subs and a variety of Hot and Cold Sandwiches, Hot Soups and Boardwalk Style Fries all day long. Please check out our Deli Menu and place your order today.
Holsinger's Meat Market also provides Custom Processing for Beef, Pork, and Wild Game Meat. Providing not only custom cutting and wrapping, but a wide variety of smoked products.
Directions

Take Exit 9 (Maugans Avenue) off Interstate-81 West towards Maugansville
Turn onto Maugans Avenue.
Proceed approximately ¬ľ mile.

Holsinger's Meat Market is located on the righthand side at 18006 Maugans Avenue.
*Look for the large steer on the roof